Ignition Philter Fundraiser
A Post-Town Hall Hootenanny
We held our first fundraiser on September 28, 2019 at the beautiful Sparklefarm in Austin to help you bring more art to Flipside! A great time was had including:
* Amazing DJ's! Bring your dancing shoes!!! 8pm-9:30pm DJ Cherubic9:30pm-11:30pm DJ Happy Happy James 11:30pm-1:00am DJ Watermelon 1am-2:30am DJ Sunkyst
*Artist Talks! 9:00pm Breezy Lessons on how i burned my 1st art piece-What I had Wished I Had Known and More 9:30pm Waldo (creator of Squirrel Net City Map) will do a demo and discuss electronic and real world map making
* Delicious Drinks! Boozy and Non Boozy!
* For sale: Drool worthy/ Award Winning Grilled Cheese! Veggie Tacos!
* Glamour Shots photo booth!
* Art from previous Flipsides (and from some of our community artists) on display!
Silent auction including art by Ellen Hinds, Doryan Rice, Emily Weertz, James K. and gifts from Jane Clarke, James K., Kate Ludlow and Sky Candy.
* Build your own effigy cardboard craft station! At town hall we will learn what the theme is, show us what you would build!
* Face painting by Allison and more!
* Bring your vision of what you want to see at Flipside! Make a happening! Shine your light!
We had a blast, learned a lot, and are hoping to create another event for you in Fall 2022!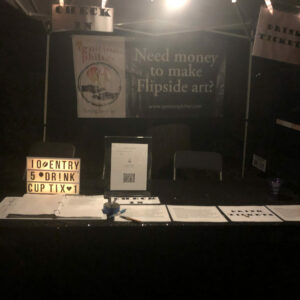 Check out the check in table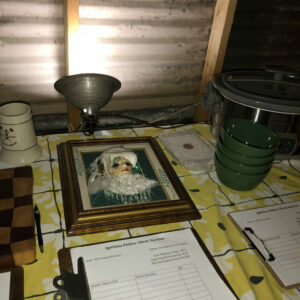 FUNdraising included a Silent auction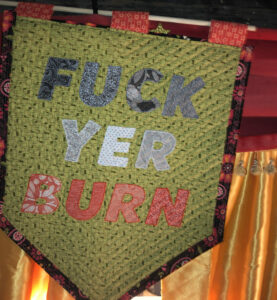 Auction item by Emily Weerts
*Photo by Alex Watson under Creative Commons License