Project #
15
Title
TBD – Working Title – Lotus Chime
Description
The work I would like to bring to Flipside would be an upgraded version of an abandoned "chimes box". See attached photo and video. We are fortunate to have this mostly completed piece available to us, however it does need some repairs. My intention is to use the $575 for wood materials to complete those repairs and to convert this structure into something that resembles a lotus flower or bulbus clove. I'm still working out the details of this build but I would like it to represent rebirth, tolerance, and unity. In its current capacity the chimes box is approximal 12ft x 6ft x 9ft tall. If these resources become available I will transform this into something that is approximal 14ft x 8ft x 14ft tall. Unfortunately I wasn't able to create a rendering in time that I'm happy with sharing so you will have to just imagine a 14ft tall lotus looking thing that makes music when you push on panels.
Optional but encouraged: detailed drawings, CAD files/SketchUp documents, sketches, or other graphic illustrations of your creative concept.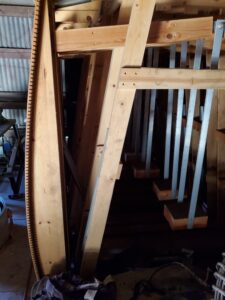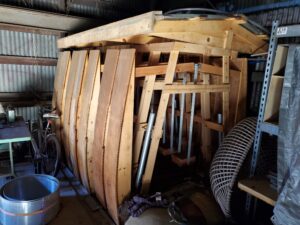 Will it need power?
Maybe
If it will need power, what is your power plan?
I will supply a Honda EU 2000 generator + Extension cord
Does the piece incorporate flame effects, moveable pieces, and/or is it climbable?
Yes
If it does incorporate flame effects, moveable pieces, and/or is climbable what is your safety plan? [(Note: if flame effects are used, your project will be subject to inspection by the Burnable Art Lead, who has final say if your project will burn during the event).]
Not intended to be climbed. No Flame. Does have moving parts but they are a minimal health and safety risk. See video
Have you completed any other large scale art projects? (In this media? Where and when? How did the project go? Do you have pictures or recordings?)
Yes, everyday. I have a piece located at the Domain if you want to check it out. See attachments
You may upload photos/recording of past projects here 
What is your timeline detailing the planning, creation, installment, and removal of your project?
This piece is currently half done. I would like start the refurb asap.
Completion / installation / removal – Flipside weekend
How much money do you need? (Up to $575) We are looking for a thorough itemized budget and the amount of grant money you are requesting.Please include a reasonably researched estimate of the cost of the materials you expect to need.
$2,408 (requesting $1,150) In terms of budget the $575 will cover about 1/3 of the costs to repair and enhance this piece, I will cover the remaining if other do not present themselves.
There is another aspect of this project (I'm sure I'm breaking the rules by asking) that would really make this thing memorable but would require separate funds. I'm not sure if there are other avenues for raising money but guidance on how to attain another projects worth of capital would be greatly appreciated.
With these funds I would be possible to make the piece interactive with lights… Imagine it as one played a note that a lights atop or behind the panel lite up. Video example upon request.
Hard Dollars
575
Have you received funding from any other entity or regional for this piece previously? If so, who and how much?
Yes but not for a burn. Highest 3 grant amounts are: $550,000, $420,000 , $330,000
Upload a spreadsheet of your budget here:
Assuming a covid safe way: in 2022-2023 We would like the artists to give community workshops outside of Flipside. Do you think you have a workshop idea that could be provided to the community? If so, please tell us what it is.
I could probably answer a few questions pertaining to public art and engineering.
Assuming a covid safe way: We will be having the 2022 Ignition Philter fundraiser in Austin after the fall town hall (usually held in late September/ early October.) Would you be willing/able to bring the piece back for that event?
No