Project #
8
Title
BooshBeats
Description
BooshBeats is an 8 effect flame art project. The system can be controlled manually, via MIDI input, DMX input, or Active High or Low inputs. It reads or sends MIDI CLK. The 8 vents are positioned in a 5′ circle each angled at 60 degrees up and out at 11 feet above the ground. This is a reconfiguration and enhancement of an effect that premiered at Maker Faire Austin in 2018. The new system has a much smaller footprint and can do interesting patterns since the 8 effects are in a circle. The controller has 4 Arduino Megas running custom code in a bespoke controller rack.
Optional but encouraged: detailed drawings, CAD files/SketchUp documents, sketches, or other graphic illustrations of your creative concept.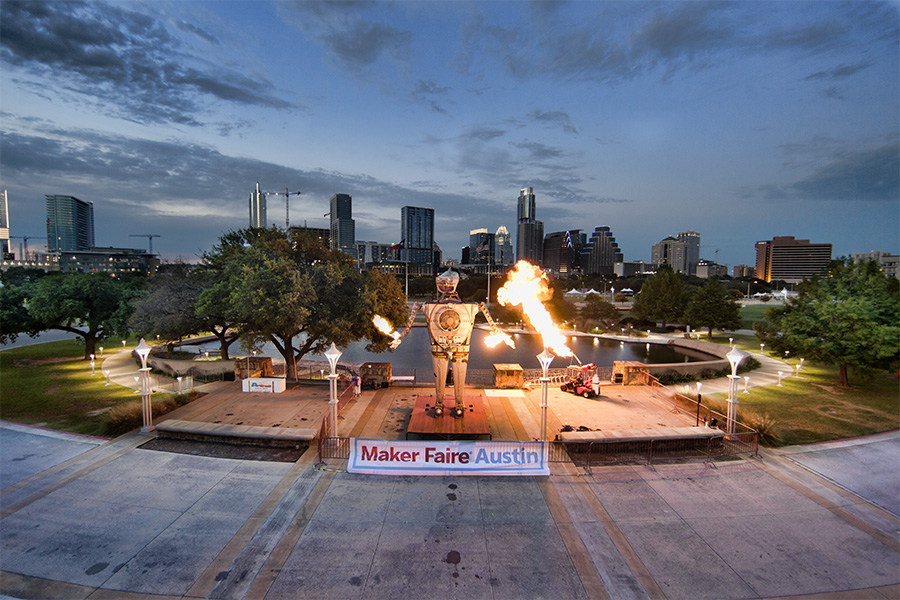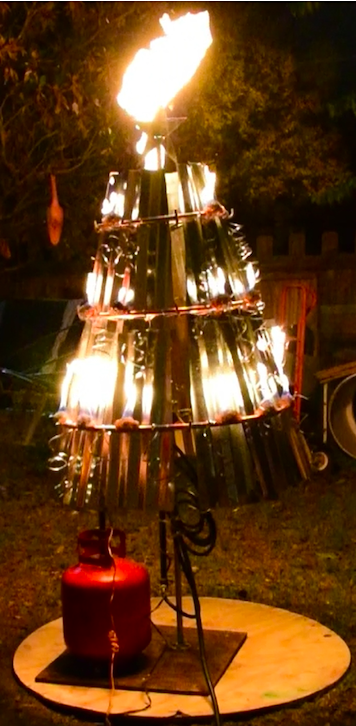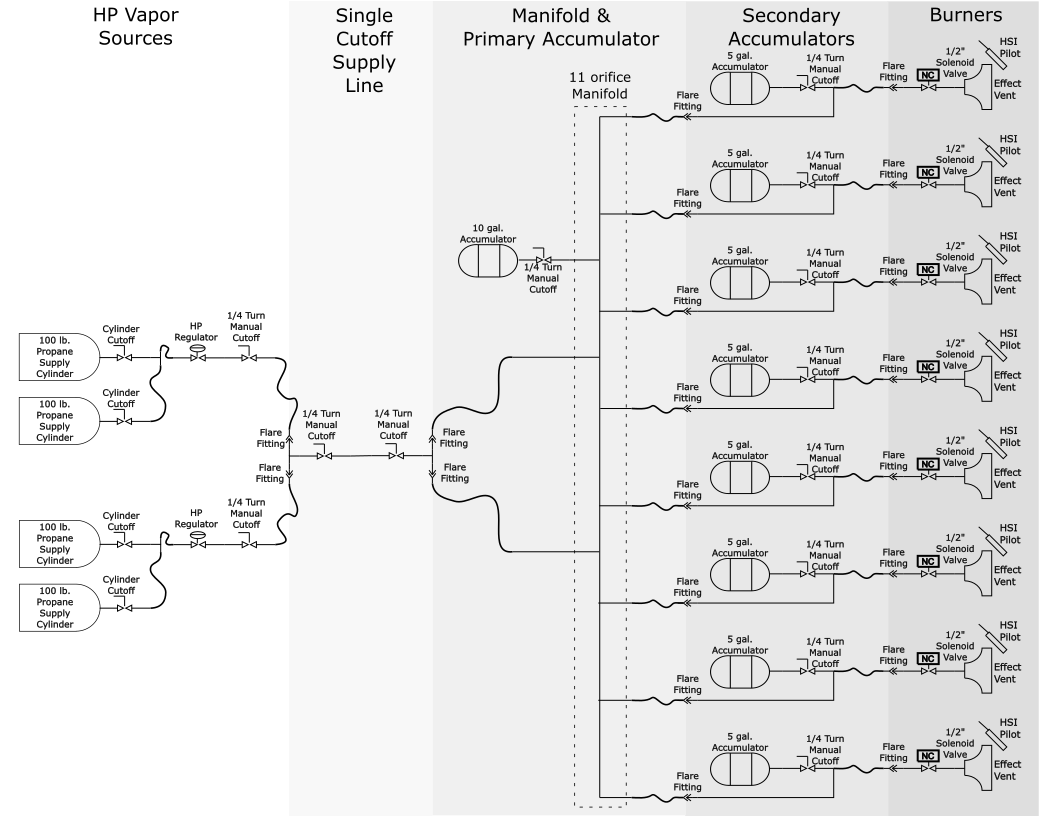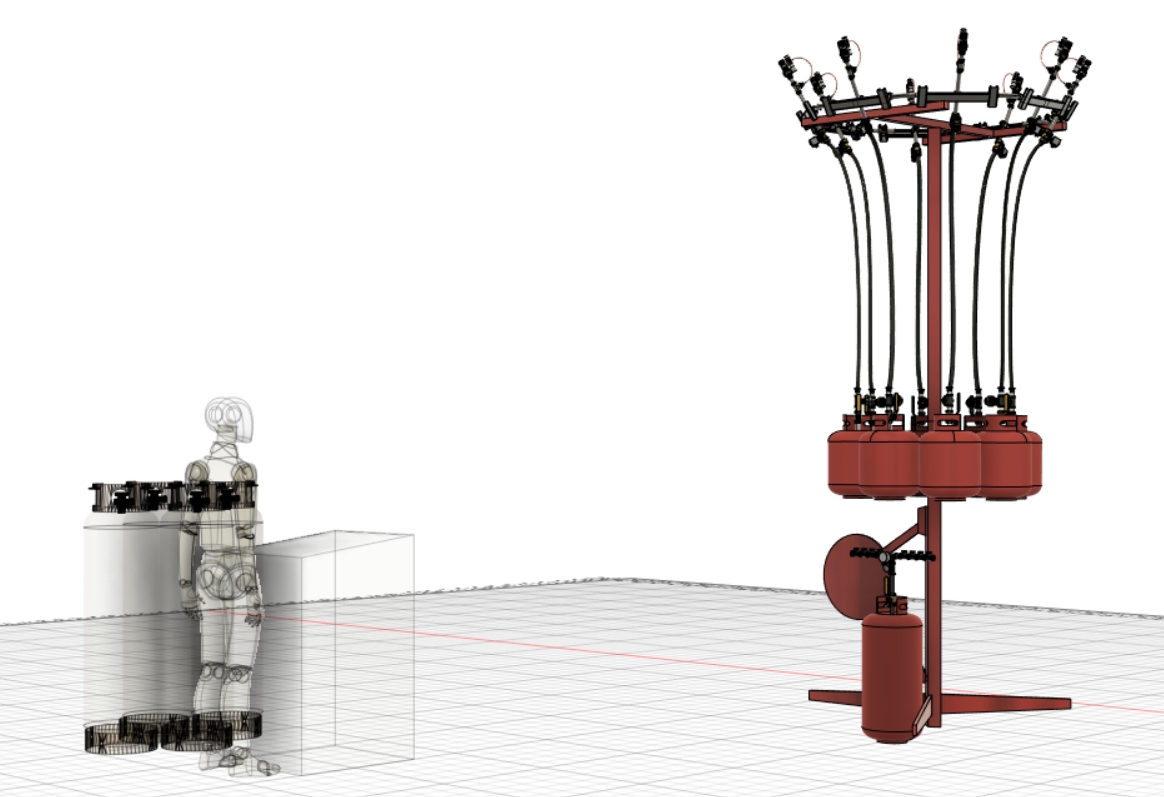 Will it need power?
Yes
If it will need power, what is your power plan?
BooshBeats needs AC power which is provided by a 2500W Dual Fuel generator running on Propane. (But I'd always love to use AC if it's available!)
Does the piece incorporate flame effects, moveable pieces, and/or is it climbable?
Yes
If it does incorporate flame effects, moveable pieces, and/or is climbable what is your safety plan? [(Note: if flame effects are used, your project will be subject to inspection by the Burnable Art Lead, who has final say if your project will burn during the event).]
I am a currently licensed TX Flame Effect Operator and was the Flame and Safety Officer for Maker Faire Austin for 5 years. The safety plan (in brief, more documentation available) consists of a 10′ audience perimeter around the effect (flagged, not hard barrier,) all cylinders 10′ from the flame effect vents, vents at > 10′ above ground, hard pipe running from source cylinders to the effect, key lock and emergency cutoff switches on the control panel, 2 H20 extinguishers, 4 Sodium Bicarb extinguishers, chain locks on genny and cylinders.
Have you completed any other large scale art projects? (In this media? Where and when? How did the project go? Do you have pictures or recordings?)
I have built multiple flame effects over the last 10 years, many have been seen at Flipside and Maker Faire Austin. I have been on Canada's 'Daily Planet' Show as well as the Alan Nursall Experience. I am the author of 'Make:Fire, The Art and Science of Working with Propane' https://www.amazon.com/Make-Fire-Science-Working-Propane/dp/1680450875 and am a regualr contributor to Make: Magazine. See http://BooshBeats.com for videos of the last time BooshBeats played out.
You may upload photos/recording of past projects here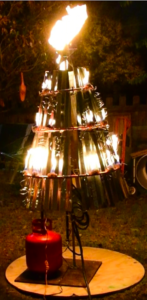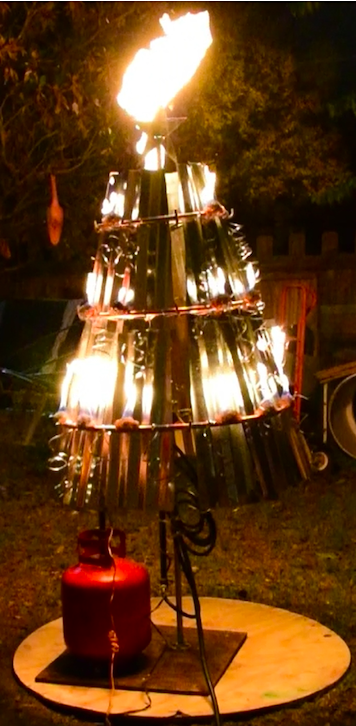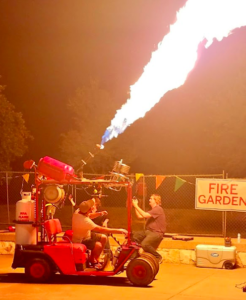 What is your timeline detailing the planning, creation, installment, and removal of your project?
The project is optimized for setup and tear down. Setup will occur Thursday afternoon, teardown on Monday morning. 'Shows' will occur on Fri, Sat, and Sun. nights. The project is 80% complete at this time and will be fully complete within 6 weeks. No assistance from Shaven Apes is anticipated.
How much money do you need? (Up to $575) We are looking for a thorough itemized budget and the amount of grant money you are requesting.Please include a reasonably researched estimate of the cost of the materials you expect to need.
I am bringing 4 100# Propane cylinders holding 94.4 gallons of propane. I expect to empty them twice over the course of the event. I will bring them filled, but would like to take them back into town and fill them again during the course of the event. Current propane prices are $2.90/gal. (pre tax) for a total of $283.20. These prices are likely to rise as Memorial Day approaches. I would like to apply for $300 to cover the cost of filling the four cylinders a second time.
Hard Dollars
300
Have you received funding from any other entity or regional for this piece previously? If so, who and how much?
I received a grant from Maker Faire Austin for $1800 to initially build BooshBeats in 2015. That covered 2/3 of the build costs and I covered the rest. Since then I have spent an approximate additional $2000 on the effect.
Upload a spreadsheet of your budget here:
Assuming a covid safe way: in 2022-2023 We would like the artists to give community workshops outside of Flipside. Do you think you have a workshop idea that could be provided to the community? If so, please tell us what it is.
I have done numerous classes on safely building flame effects. The Flaming Lotus Girls essentially use my book Make:Fire as the new team member textbook. I would be glad to do workshops for the local community.
Assuming a covid safe way: We will be having the 2022 Ignition Philter fundraiser in Austin after the fall town hall (usually held in late September/ early October.) Would you be willing/able to bring the piece back for that event?
Yes